劇場都市・道頓堀の歴史シアター
Theater of the history of "Theater City, Dotonbori"
実は道頓堀は、400年の歴史を誇る"劇場都市"です。
文楽や歌舞伎の名作もここで育まれ、世界の劇場演出にも影響を与えてきました。
「道頓堀ミュージアム並木座」は、大阪はもちろん、国内外からの多くのお客さまに"劇場都市 道頓堀"を演劇的に伝えるミュージアムです。
江戸時代の芝居小屋にタイムトリップ!文七さんとタダノキツネブのかけあいやクイズ、 歌舞伎の変身体験や回り舞台体験などの楽しい体験とともに、歴史を知ることができます。
Dotonbori is in fact a "theater city" with a 400-year history.
Masterpieces of Bunraku and Kabuki have been nurtured here and have influenced theater productions around the world.
"Dotonbori Museum Namikiza" is a museum that conveys the history of the "Theater City Dotonbori" through theatrical performances to many customers not only from Osaka but also from Japan and abroad.
So we prepair main movie in 5languages(eng,chi,kor,spa,jpn) Travel back in time to a playhouse of the Edo period! You can learn about the history of the theater through fun activities such as a quiz, a Kabuki makeover, and a revolving stage experience.
たいけん
コース

生ガイド・楽しい体験つきのコース!


生ガイド・変身写真・回り舞台体験+まなびコースの内容
所要時間:30分〜1時間
大人-1200円、小学生-600円、65歳以上-1000円

Taiken Experience
Course

Live guides and interesting experiences included!


Live guides,makeover photos,revolving stage experience +Manabi course content.
Duration:30minutes to 1hour.
Adult:1200yen;Elementary school student:600yen;Senior1000yen.

まなび
コース

動画とクイズで学ぶコース。


動画・クイズ+いこいコースの内容
所要時間:15分〜30分
大人-600円、小学生-300円、65歳以上-500円

Manabi Learning
Course

This course includes video and quizes.


Video,Quiz+Ikoi course content.
Duration:15minutes to 30minutes.
Adult:600yen;Elementary school student:300yen;Senior500yen.

いこい
コース

休憩したいときに。
充電・wi-fiも使えます!


パネル展示の見学・wi-fiとコンセントの利用
30分まで(閑散期は1時間まで)
大人-300円、小学生-300円、65歳以上-300円

Ikoi rest
Course

When you want to take a break.
Charging and Wi-fi are also available.


Observation of panel exhibition,Wi-fi and power outlets available.
Duration:30minutes to 1hour.
All:300yen
障害者割引、団体割引、リピーター割引など複数の割引制度もご用意しております。
詳細は 山根エンタープライズ株式会社 まで、
メールフォームもしくは お電話 06-6538-4880(受付平日10-17時)にて
お問い合わせください。
Several discount programs are available, including discounts for the handicapped, group discounts, and repeat customers.
For more information, please contact Yamane Enterprises, Inc.
Please feel free to contact us by mail form
or by phone at 06-6538-4880 (available on weekdays from 10:00 to 17:00).
Please contact us for more details.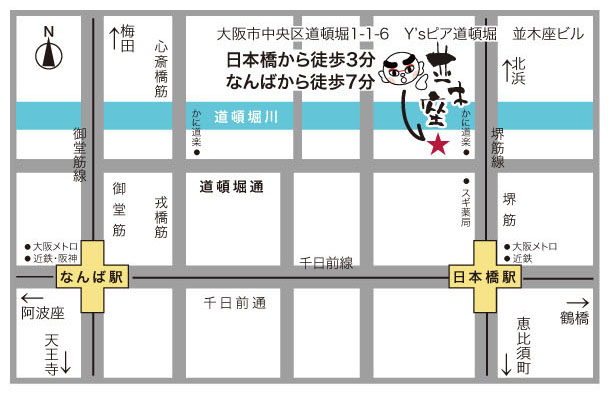 大阪市中央区道頓堀1-1-6  Y'sピア道頓堀並木座ビル1階
営業時間  13:00~17:00(最終入館16:30)※イベント時を除く
定休日   月曜日
Y's Pier Dotonbori Namikiza Building 1F, 1-1-6 Dotonbori, Chuo-ward, Osaka
Business hours: 13:00~17:00 (last admission 16:30) *Except for events
Closed on Mondays
イベント情報・開館時間
入館ご予約についてはこちら
イベントをしたい方はこちら
Event information and opening hours
Click here for information on reservations.
If you want to have an event, click here.
道頓堀ミュージアム並木座への想い
世界中に"劇場都市 道頓堀"を伝えるため、「道頓堀ミュージアム並木座」は存在しています。
しかし、ただ紹介するためだけの施設で留めたくはありません。
世界に誇れる道頓堀の、劇場街としての歴史を伝えると共に、体験アトラクションでミュージアム自体にエンタメ性を持たせます。
また、演芸やお芝居の公演も実践しています。
インバウンドを背景としてもし事業として成り立てば、同様のアトラクション施設がまちに増え
道頓堀全体が、エンタメ街のテーマパークになるのでは?ということを期待する社会実験なのです。
道頓堀をリ・ブランディングすることで、劇場が減り続けた状況を変え、劇場街の復興や、次世代への継承につなげたい。
そして、最終的には、再びこのまちに日本中、いや、世界中からお客さんが来て、本当のブロードウェイのようなまちになれるのではないか
・・・と壮大な妄想に近い構想をこめています。
Thoughts on Dotonbori Museum Namikiza
The Dotonbori Museum Namiki-za has been established to introduce the "Theater City of Dotonbori" to the world.
However, we do not want to remain a facility that merely introduces the world of Dotonbori.
The museum itself is an entertainment facility with attractions that visitors can experience while learning about the history of Dotonbori as a world-class theater town.
We are also offering the performance of entertainment and theatrical performances.
If this project becomes a success with inbound visitors, the number of similar attractions will increase in the city, and the entire Dotonbori area will become an entertainment district.
This is a social experiment with the hope that the entire Dotonbori area will become a theme park of entertainment.
By re-branding Dotonbori, we hope to change the situation where the number of theaters has been decreasing, to revive the theater district, and to pass it on to the next generation.
And finally, we hope that this town will once again become a town like Broadway, with patrons coming from all over Japan and even the world.